Submitted by
content
on Fri, 10/29/2021 - 06:46
Ex-Premier League referee Mark Clattenburg has revealed the attack on him from John Mikel Obi shortly after he was the centre referee for the Premier League clash between Chelsea and Manchester United.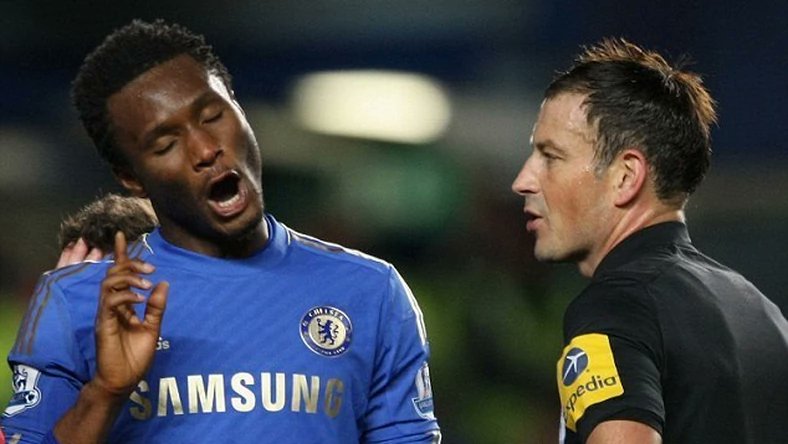 In his autobiography titled 'Whistle Blower', Clattenburg detailed the incident that happened during and after the Premier League encounter between hosts Chelsea and Manchester United. According to him, the incident almost ruined his life and that John Mikel Obi stormed his dressing room after the match and tried to attack him.
Several Chelsea players were aggrieved by the officiating from Clattenburg and the other match officials as the fiery league encounter in 2012 ended in a 3-2 home defeat for the Blues who had two players sent off. Spanish striker Fernando Torres and Serbian defender BranislavIvanovic were sent off during the game.
A controversial late goal from Mexican striker Javier Hernandez secured a 3-2 win over the Blues and that ignited the fury of the Chelsea players including John Mikel Obi. The Chelsea players exploded with the third goal from the Red Devils in the dying moments of the game. Racism allegations were then levelled against Clattenburgby the duo of John Mikel Obi and Juan Manuel Mata. In addition to the abuse and attack from the Chelsea players, the 2016 Champions League final referee was also abused by the Chelsea fans.
Clattenburg talked about the rage in the eyes of John Mikel Obi when he confronted him in his dressing room.According to him, the Super Eagles of Nigeriamidfielder threatened to break his leg as he was held back byBlues manager Roberto Di Matteo and Blues coach Eddie Newton.
Ex-Premier League refereeClattenburgsaid he expected the tirade of abuse from the Chelsea fans as he expressed surprise at John Mikel Obi who was out of control.